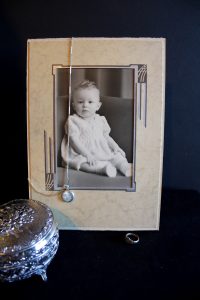 Objects of memory—call them artifacts, keepsakes, souvenirs, photographs, or documents—are physical links to the past. Throughout our lives, most of us collect them. Some are valuable, others not. Their value to us, though, is largely subjective and tied to the memories and meanings which are contained or encoded in them. As archeologist Andrew Jones has suggested, "artifacts provide an authentic link to the past and as such can be re-experienced. It is through this reexperiencing that the world of the past … is brought into contact with the present" (Memory and Material Culture, Cambridge University Press, 2007, p. 3).
In other words, our keepsakes and photographs prompt our memories of the past. When we look at them or touch them, we feel connected to our personal, family, or communal history. Even if we don't display them in our homes or offices (perhaps they are boxed up in storage!), simply possessing objects of memory gives us a way to hold on to the past, to preserve our memories.
To take this idea further still, it can be argued that "objects provide the ground for humans to experience memory…. Remembrance is not a process internal to the human mind; rather, it is a process that occurs in the bodily encounter between people and things, as people do not remember in isolation…" (Jones, Memory and Material Culture, p. 22, 26). What this means is that, through our senses, it is only when we see, hear, smell, or touch (presumably not taste!) objects of memory that the past is recalled.
While digital images of these objects of memory are one step removed from the artifacts themselves, we hope that by recording written and visual information about the items brought to the History Harvest, we can share their meaning with the public and preserve something of the collective memory of High River residents.